Choosing the right toilet for your bathroom is best and can save you from wasting money on features you'll replace. Although toilets aren't something popular you should be discussing, they're what we all use daily. However, your choice becomes very important, keeping in that some last half a century, while some last less than a century.
Suppose you're starting to shop for a new toilet and are curious to know what types of toilets there are. Then you're on the right article. Keep reading as we explore the right kind of toilet that best suits your bathroom.
What Are Toilets Made of?
What are toilets made out of? Today, most toilets are made of Porcelain (vitreous china) or Ceramic and coated with enamel to give them a colorful/glossy surface. However, toilets made from Porcelain are white and usually waterproof. Other common types of materials are wood, plastic, and concrete.
Several manufacturers use Porcelain to make their toilets because of the many benefits. However, toilets made by Crane plumbing brands offer reliable and efficient operation. However, these toilets are no longer made; the brand has been merged with the American Standard.
Why Are Toilets Made of Ceramic or Porcelain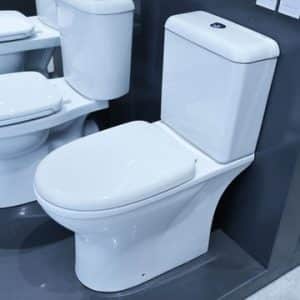 Image Source: Quora
For centuries, Porcelain has always been a part of toilet making, even though wood or metal are used. And since ceramic is a type of Porcelain, over time, the two have become master in the industry because they are non-porous materials that are easy to clean, hygienic, not affected by bacteria or water, and keeps the toilet in a pristine, sanitary state.
Also, toilets made from either material are affordable and comfortable to use. The vitreous china, the Porcelain used in toilets today, gives it a fashionable color. The smooth surface of the Porcelain, coupled with the glazing techniques, makes it strong, durable and easily sanitized.
Why Are Toilets Not Made of Metal or Steel
Toilets are made from materials like Porcelain, metal, stainless steel, etc. However, Porcelain is what 99% of manufacturers use today instead of any other due to its numerous benefits.
Why are toilets no longer made of metal or steel? The answer isn't far-fetched. Metals are not cheap and may be very expensive to form and machine into the toilet. The process involved in this will require more tools.
Also, steel toilets are durable and have excellent strength but are unhygienic and susceptible to bacteria. In addition, both steel and metal toilets are usually uncomfortable to sit on. They're typically cold in cool weather and hot when the temperature is high.
How Are Toilets Made?
The process of making toilets can be enticing to watch; truthfully, it requires many skills and competence to manufacture. If you're dealing with one of the toilet manufacturers in China, like Xiamen OLT, you can be sure you're dealing with highly skilled and competent professionals in the industry.
However, the step-by-step instructions are detailed below;
Step 1: Make the Porcelain or Ceramic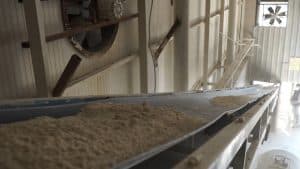 Image Source: interestingengineering
The Porcelain or Ceramic, a mixture of china clay, ball clay, silica, and a refluxing agent, is first prepared.
All the essential ingredients are loaded into a large hopper, and the mixing begins until the ceramic is formed.
Step 2: The Molding Process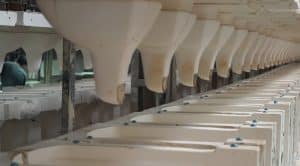 Image Source: interestingengineering
The ceramic or Porcelain mix is then poured into the mold cast to assume the shape of each design.
The ceramic is then allowed to dry to build strength before removing the cast.
In drying, a quality check is done to detect any defective item. And if any is found, it is destroyed and recycled, with no room for wastage.
Step 3: Grazing and Finishing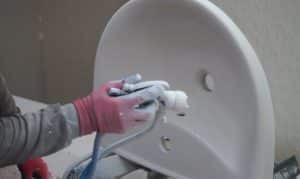 Image Source: interestingengineering
The next stage is to coat the ceramic cast using polish on each item before grazing.
Glazing is applied to keep the cast shiny, durable, and easy to clean.
After thoroughly applying the glaze, the toilet is ready for heating, which is the finishing.
The items are heated in the oven until the temperature reaches 1,220 degrees celsius.
Finally, the item is cleaned, and quality control is carried out on each piece and packaged for distribution.
How Many Types of Toilets Are There in The World
Our differences make us unique, and the toilet isn't an exception. Basically, there are 3 different toilets around the world. Some afford you the comfort you seek, while some require you to be as fast as possible when using them. Discussed below are the various types.
Japanese Type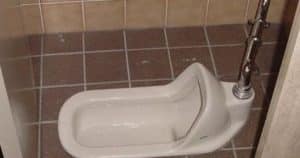 Image Source: Pinterest
The Japanese toilet type is likened to the olden days' form that requires you to squat over it. Technically, the toilet is a hole made of Porcelain, steel, plastic, or concrete and embedded in the ground with nowhere to sit and feel relaxed.
This is the type of toilet primarily used in public for travelers and commuters. These toilet types are constructed to be strong and durable to avoid breaking since they require squatting.
Western type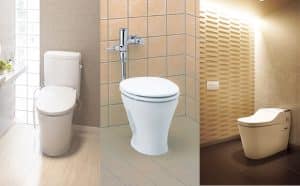 Image Source: sanitary-net.com
Western toilet type is the most commonly used toilet today. The toilet is designed to have a toilet tank attached to the towel bowl containing water for flushing and removing any stains. Although the western toilet types are modern and classy, they are only somewhat strong and durable. Sitting on the toilet seat or squatting on it may damage or destroy it.
Multifunction type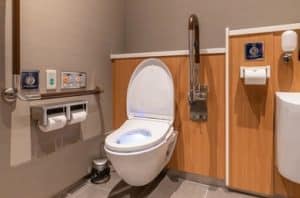 Image Source: shutterstock
Several people can use this toilet type: nursing mothers, people in wheelchairs, customers with ostomates, elderly ones, etc., who are more roomy. They are found at home, hospitals, hotels, commercial places, etc.
Multifunction toilet type also comes with many automatic systems, such as hand dryer, automatic faucet, soap dispenser, bathroom mirror, etc., that makes them comfortable to use.
The Most Common 5 Types of Toilets
High-Level Toilet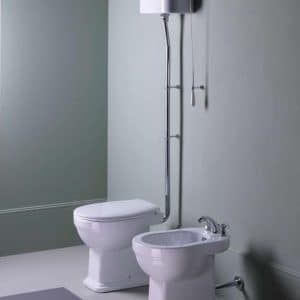 Image Source: Victorian Bathrooms
High-level toilets give your bathroom an old-fashioned yet beautiful look. The high-level toilets feature an exposed long chrome flush pipe connected to a low-level pan sitting on the floor. The toilet is flushed by pulling the long chain attached to the toilet cistern. The cistern is mounted high up on the wall, above the pan, which reinforces it to avoid any problems.
Low-Level Toilet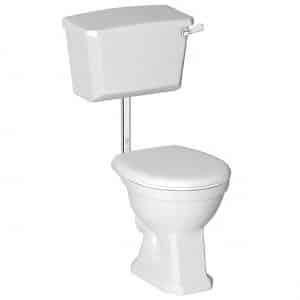 Image Source: B&Q
A low-level toilet has a similar design to a high-level toilet but with a more vintage look. The design consists of a floor-standing ceramic toilet pan with an exposed ceramic cistern linked by a metal flush pipe.
The cistern is mounted at a lower level down the wall with decorative brackets, making the flush pipe shorter. Most often, the chain flush can be replaced with a handle as the cistern is easy to reach.
Close Coupled Toilet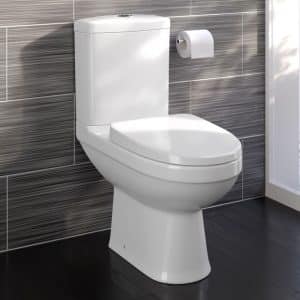 Image Source: Pinterest
Close Coupled toilets are the super popular type of toilet today, in which the cistern and the pan are fitted together to make one toilet unit. This innovation reduces space needed, reduces water wastage, and makes the toilet easier to clean. Also, the toilet can be flushed using a push button or handle on the cistern.
Back-to-wall Toilet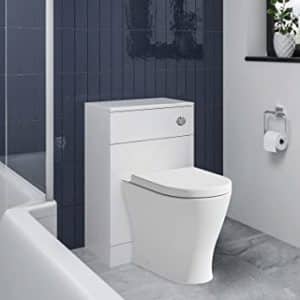 Image Source: Amazon UK
A back-to-wall toilet is a floor-standing toilet pan designed so that the cistern and the waste pipes are concealed within the wall or a piece of furniture. Back-to-wall toilets are contemporary types that save space, are easy to clean, and are simple to maintain.
The flushing system includes a lever flush, a sensor flush kit, or a push-button flush, which are located through the wall or IPS panel to activate the concealed cistern.
Wall Hung Tank Type Toilet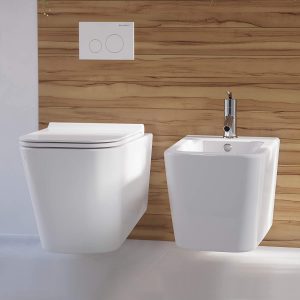 Image Source: Amazon.ca
A wall-hung toilet is classy and modern, hanging on a sturdy metal frame above the floor of your toilet, and can be installed at any height you choose. Although wall-hung toilets are expensive, they are easy to sanitize and offer advantages. The cistern or tank is usually hidden behind the drywall, but no cutting into the floor to accommodate the drain.
Things You Want to Consider Before Buying a New Toilet
Now that we've discussed the different types of toilets, the question is, "what type of toilet should I buy"? In answering this question, you should know several things to make the right choice.
Toilet Design Choices
Considering the size of your bathroom and preference, some different on-trend options and choices that will fit your taste and budget are listed below.
Dual-flush toilets
Composting toilets
Pressure assisted toilets
Touchless flushing toilets
Gravity-flush toilets
Upflush toilets
One-piece toilets
Toilet Dimension
A standard toilet dimension has a depth range of 27 to 30 inches, a width of about 20 inches, and a back height of 21 to 31 inches. So, it would be better to look for this when selecting one.
Toilet Bowl Types
Generally, there are 2 types of toilets bowl type; elongated and round. According to several opinions, elongated toilet types are more comfortable, while round types are perfect for smaller bathrooms.
Outlet Trapway Types
The three outlet trapway types available are;
A concealed toilet type with a smooth surface behind the toilet where the trapway is ordinarily visible.
Skirted toilet types provide a clean line from front to back.
The exposed toilet types are challenging to clean because of their location.
Types of toilets: common FAQs
What Types of Toilets Are Used in Aeroplanes?
An aeroplane uses a vacuum toilet system that works by pressure difference. The waste tank is mounted at a lower pressure than the cabin so that when the flush button is applied, a valve at the base bowl opens, and the contents are released.
How Much Does It Take to Install a Toilet?
At home improvement stores, the toilet costs around $99 and $450, while the installation price ranges between $224 and $532 and at an average of $372.