Farmhouse sinks are classic interior design elements in the kitchen that have slowly made their way to modern homes. For a statement piece of a fixture in your kitchen, the faucet for farmhouse sink must also follow suit. Read on to know what is the best faucet for a farmhouse sink.
rustic kitchen faucet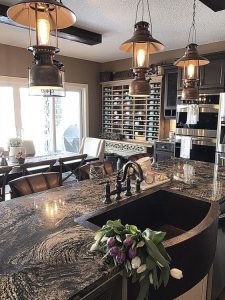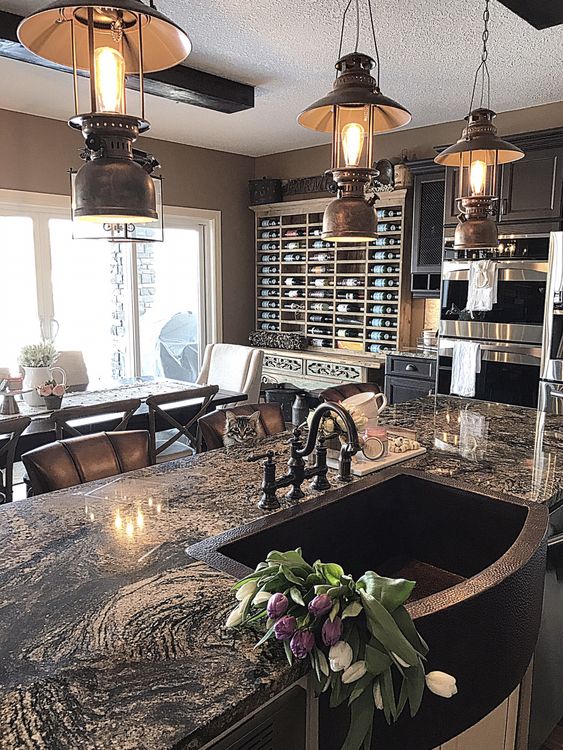 Image Source: Pinterest
Farmhouse sinks, also called apron sinks, actually have a reason for their distinct size and appearance. Back then when there was still no running water in homes, people used to haul large buckets of water from rivers and springs and the unique design of farmhouse sinks make it easier for people to use the sink and stand for long hours using it.
Apart from the functionality, farmhouse sinks are also classically stylish and suit modern and rustic-style kitchens. Although, rustic-style faucets with a matching rustic finish suit farmhouse sinks the best.
brass farmhouse kitchen faucet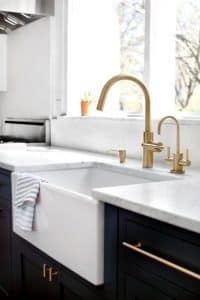 Image Source: Pinterest
Farmhouse sinks look good in any kitchen aesthetic because of their classic style. Much like subway tiles, and other classic interior elements that have enjoyed their renaissance, farmhouse sinks are very versatile and suit modern interiors perfectly with the right combinations of other elements like adjacent fixtures, furniture, textures, and even color palettes.
Brass farmhouse sink faucets work well with clean, bright, and modern interiors like marble countertops, bright white walls, and navy blue cupboards. They also work best when the hardware of the cupboards matches the brass of the farmhouse sink faucet for a more cohesive look.
modern farmhouse kitchen faucet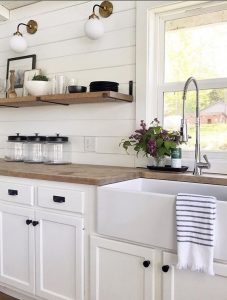 Image Source: Pinterest
A modern twist to the farmhouse sink is incorporating a more modern-looking faucet like a pull-down chrome faucet. The sleek silver color of the chrome faucet looks refreshing with the farmhouse sink. Pair it with clean white cupboards for a fresh and open look.
To add some warmth to your kitchen, you may opt to add some wood accents in the form of wooden shelves or even a wooden countertop. It may be a contrast to the modern look of the chrome faucet but the contrast creates a refreshing look with white paint and white cupboards.
farmhouse pull down kitchen faucet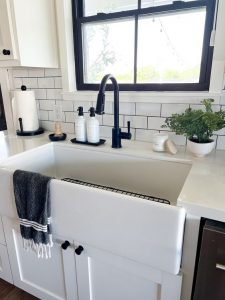 Image Source: Pinterest
Pull-down faucets suit farmhouse sinks really well because the big sink really does need the extra reach that a pull-down faucet can provide. Pairing your white farmhouse sink with a matte black pull-down faucet creates a modern and refreshing contrast that emphasizes the colors of each element.
Another interesting historical element to pair with your farmhouse sink is a backsplash of subway tiles. These tiles will surely complement any color of farmhouse sink and faucet, especially ones that have a black-and-white motif. Add on some plants to add a little color and life to your black-and-white palette.
double faucet farmhouse sink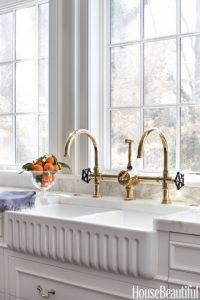 Image Source: Pinterest
Double faucet farmhouse sinks are functional luxuries that allow you to assign different uses to each side of the sink. You may opt to use one side for food prep while the other may be used for dishwashing or for stocking dirty dishes. You may also use one side for lathering dishwashing soap while the other may be used for rinsing.
The double faucet and sink create another interesting design element that may further be played off by choosing a vintage-looking brass or bronze faucet to make it your kitchen's centerpiece. Keep the sink simpler by choosing a white one.
Wall mount farm sink faucet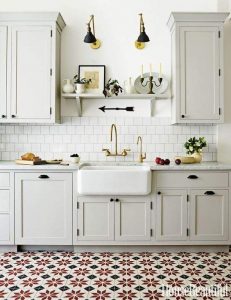 Image Source: Pinterest
Wall mounted faucets are perfect for farmhouse sinks that don't have excess horizontal space or counter space. It reduces visual clutter around the sink area. In this kitchen, it perfectly mirrors the sconces placed in the upper area of the sink which makes the design choice very cohesive.
Wall mounted faucets are modern additions, especially if you choose automatic ones with modern finishes. However, if you are going for the romantic route, vintage-style faucets with bronze or brass finishes will perfectly complement your rustic kitchen just remember to not overdo it.
touchless farmhouse faucet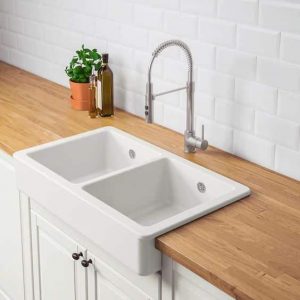 Image Source: Pinterest
Pair your classic farmhouse sinks with modern touchless faucets. These wonderful inventions make life easier and hassle-free for users. It is also more hygienic since you won't have to touch the handle of your faucet to wash your hands. Simply hover your hand near the infrared receiver to turn your faucet on and use the faucet as you would a normal one.
You can choose any touchless faucet with your farmhouse sink just make sure to pick a design that works well with your other interiors. A pull-down touchless faucet is a good option especially if you have double sinks.
Bridge faucet for farmhouse sink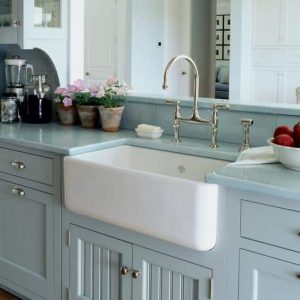 Image Source: Pinterest
Bridge faucets are beautiful, classic, faucets that add a charming touch to any kitchen sink. They go especially well with the vintage charms of farmhouse sinks.
Bridge faucets were named after the pipe that acts or looks like a bridge between the two pipes and handles. One pipe is for hot water and the other is for cold water, the handles correspond to their respective pipes and the bridge is the pipe that connects both to the spout of the faucet. These types of faucets look great and act as decor pieces on their own.
farmhouse sink faucet with sprayer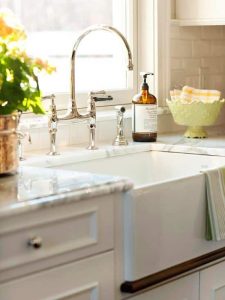 Image Source: Pinterest
Sprayers are not only good accent design elements but are very functional to have especially when you have a large sink like a farmhouse sink. They are very helpful in reaching spaces that are farther from the main faucet spout and they are great in spraying down caked-on dirt or debris from dishes or fruits and vegetables.
They are also a great help when rinsing soap or oil when dishwashing and spraying off the sink when you are done using it. It is also a good backup when your main faucet is faulty or broken.
antique farm sink faucet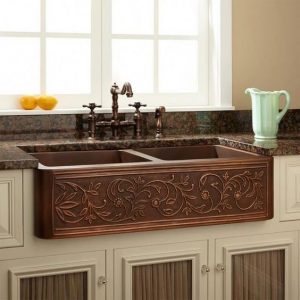 Image Source: Pinterest
Some farmhouse sink owners want to retain the antique aesthetic surrounding the farmhouse sinks and opt for more vintage-looking elements to pair with it. Vintage or antique-looking faucets are chosen sometimes with brass, copper, nickel, or bronze finishes to mimic the faucets of olden times. Some even go to the lengths of getting a copper or bronze sink with ornate embellishments and flourishes that further highlight the antique aesthetics.
It is easy for these designs to look a bit overdone or dated so it is best to pair it with more modern walls, windows, and light fixtures.
oil rubbed bronze farmhouse sink faucet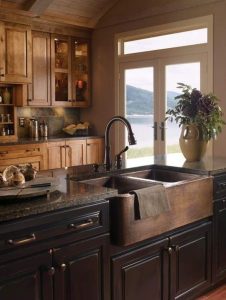 Image Source: Pinterest
Oil-rubbed bronze is a kind of material finish that was made to mimic or simulate aged bronze. It is perfect for an earthy, homey, or even a bit gothic-like feel. It has become pretty popular, especially in the rise of the industrial look but paired with the rustic charm of a farmhouse sink, it evokes more of an antique vibe.
It can suit both light and dark kitchen motifs because of its neutral color and because the oil-rubbed bronze look has also been modernized. Pair it with dark wood cupboards and a matching brown sink for a dark, moody vibe.
Industrial or restaurant-style farmhouse kitchen faucet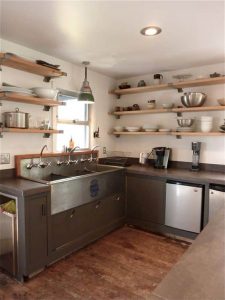 Image Source: Pinterest
Restaurant-style or industrial farmhouse sinks are a bit bigger and more robust than home kitchen farmhouse sinks. They may often have more faucets and tubs and are usually made of stainless steel for a stain-resistant finish and easier cleaning.
Farmhouse sinks are perfect for restaurants since they really need the big sink spaces for food cleaning, preparation, and the mounds of dishwashing. Several faucets and tubs also allow for more people to use the sink at the same time without contaminating what they are handling.
Vintage farmhouse sink faucet or old farmhouse sink faucet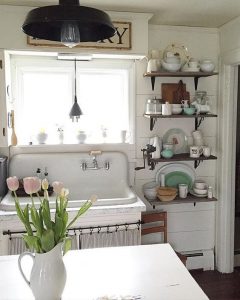 Image Source: Pinterest
Some people go for the vintage look while some really do have vintage farmhouse sinks passed down from generation to generation. Sinks were built differently back then and some of them survived till the modern day. These sinks, when maintained properly, need only a bit of elbow grease and some newer fixtures to suit a more modernized kitchen.
However, if you want to retain the old farmhouse look then pair it with rustic pieces like vintage-looking faucets, vintage porcelain, and even some kitschy rustic signages. You may even match your light fixture to keep it in the vintage vibe.
farmhouse sink with black faucet
Image Source: Pinterest
Black faucets are strong statement fixture pieces that can suit a vintage or modern kitchen. Pair it with a white sink, white countertops, and white tiles for a modern and clean look, or go for a more moody and dark look with more wood accents and even a copper or bronze farmhouse sink. Pair it with some gray marble or granite and some vintage pendant light and you've got a classic kitchen. If the patterns and dark elements are too stifling, opt for a clear glass pendant light and add some fresh greeneries.
farmhouse sink with gold faucet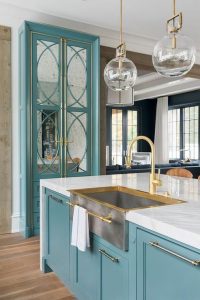 Image Source: Pinterest
Put a touch of class in your kitchen with a golden faucet and pair it with stainless steel farmhouse sinks with golden details. Match your cupboard hardware with golden handles and even keep your pendant lights in the same metal color family.
You may even play around with color for your cupboards for a fresh contrast. Keep the countertops white to make them look clean and simple while having a warm wooden floor helps keep it looking organic. A touch of greenery or a vase of flowers helps tie the whole look together and makes it look finished.
Selecting a farmhouse sink faucet: practical tips
Consider the


number of basins.

Farmhouse sinks sometimes have one, two, or even three basins. Consider how many you may need.

Consider the number of faucets.

As with basins, farmhouse sinks sometimes have several faucets too. Find out how many you need.

Choose an appropriate size.

Choose a size that is enough for your needs.

Pick the best material and finish.

There are several material finishes available now for farmhouse sinks. While there only used to be fireclay, now there are matte, stone, and stainless steel. There are also different colors available for some of the materials.
What faucet is best for farmhouse sink?
TCK farmhouse sink faucet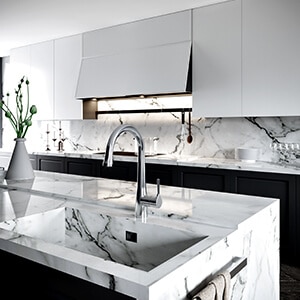 Image Source: TCK
TCK has a lot of faucet models that will suit farmhouse sinks. They have different models of automatic kitchen faucets, some of which are pull-out faucets. They also have wall-mounted automatic faucets that will suit modern looks. Their products are ISO 9001, ISO14001, CUPC, WRAS, and CE certified.
Kohler famous sink faucet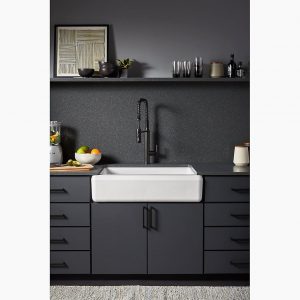 Image Source: Kohler
Kohler is an American brand from Kohler, Wiconsin that specialize in plumbing products like faucets, sinks, toiles, baths, showers, and other. They also manufacture other home products like cabinets, vanities, mirrors, etc. They also manufacture smart home products.They have a variety of faucets like pull-down, pull-out, bridge, bar faucets, etc.
moen famous sink faucet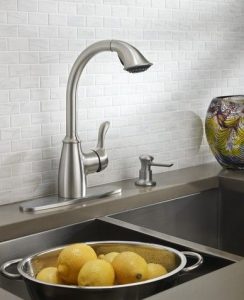 Image Source: Pinterest
Moen is also a popular American brand that is famous for its faucets, bath, shower, and other plumbing accessories. The brand has durable and reliable products that can last 15 to 20 years. They also have a wide selection of faucets with different finishes and colors that can suit any design aesthetic.
apron sink faucet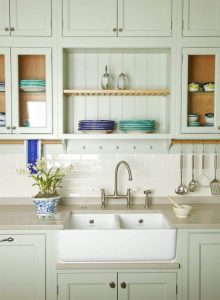 Image Source: Pinterest
An apron sink or apron front sink is not a brand but another term for the good old farmhouse sink. It was called such name because of the exposed part of the sink that differentiates it from any other farmhouse sink.
delta farmhouse sink faucet
Image Source: Pinterest
A competitor to other American brands, Delta is also a powerhouse in the faucet and plumbing industry. It is comparable to Moen when it comes to the reliability but comes in a more affordable price. It kitchen faucet selection is expansive and includes pull down/out, tall or high arc, etc.