Are you contemplating which among the most popular bathroom and kitchen faucet finishes to choose? We narrowed them down in this blog to help you decide!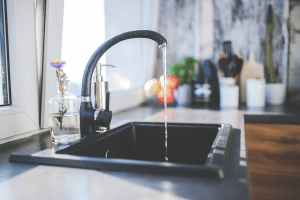 Image source: Pixabay
Polished Chrome
Image source: FaucetDirect.com
Polished chrome faucets are more contemporary and often complement modern architecture. They have a buffed appearance and are robust due to the layers of chrome plating over nickel and copper over solid brass. It doesn't corrode, and its silver color can nearly be mistaken for being white, making the dirt very visible.
Pros
Finished in style
Minimal maintenance
Doesn't tarnish
Affordable
Cons
Too typical
Noticeable water marks, scratches, and fingerprints
Stainless Steel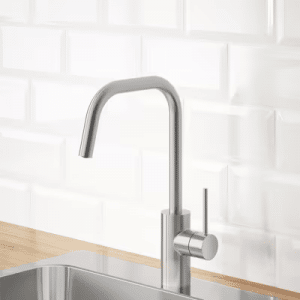 Image source: IKEA
Stainless steel is a steel alloy with 10.5% chromium that has a mirror-like appearance without any blemishes or point defects. Durable than chrome, it doesn't wear over time and has a service life that can exceed 10 years.
Pros
Robust
Can withstand high temperatures
Corrosion-resistant
Minimal maintenance than chrome
Huge selection of models
Affordable
Cons
Noticeable water marks and scratches
Scratch-prone
Brushed Nickel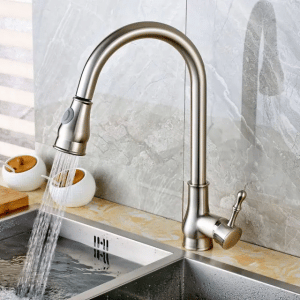 Image source: Juno Showers
Brushed nickel faucet is made of nickel, zinc, or copper. Its textured appearance is due to the process of brushing with wire brushes or a similar instrument. It has an earthy brownish-gold hue which suits warmer themes.
Pros
Easy to clean
Hides water marks and fingerprints
Low maintenance
More affordable than stainless steel
Durable at a cheaper price
Cons
Costly than polished chrome
Tends to differ in color depending on the manufacturer
Tarnishes easily than polished chrome
Matte Black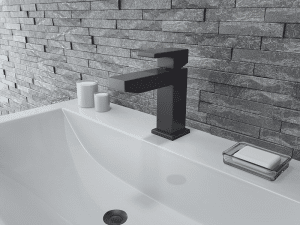 Image source: Pioneer Industries
Matte black faucets use a rich, satin black color that used on brass, iron, and steel surfaces. It is the most trending fixture these days as it blends well to most interior designs and contemporary home decor.
Pros
Doesn't leave smudge and finger prints
Easier to clean
Its neutral tone matches any color and designs
Aesthetically good for the modern homes
Affordable price
Cons
Prone to scratches
Visible dust appearance
Needs certain cleaners
Fades gradually
Brused Brass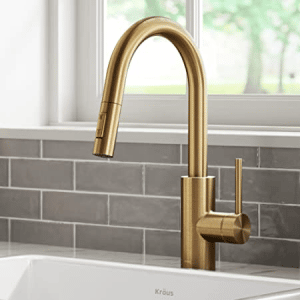 Image source: Amazon
Brushed brass is a popular and distinct kind of brass that has a dull appearance but is known for its dependability, sophisticated appearance, and simple upkeep. Many people still favor brushed brass finishes for their kitchens and bathrooms because it provides the highest aesthetic quality.
Pros
Goes well with a variety of hues
Doesn't tarnish easily
Lasts long (as long as it doesn't rust)
Aesthetic appeal and elegance
Cons
Frequently seen as being too rustic or out-of-date
Eventually lose its shine
Polished Nickel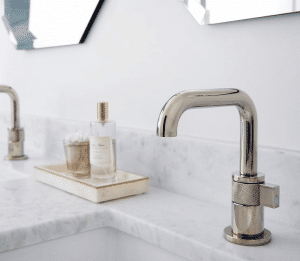 Image source: Decor Pad
Polished nickel faucets are made of nickel plating that resembles chrome in appearance and is applied as a smooth, lustrous layer to brass. Due to its warm tones and durability, it is frequently preferred over chrome.
Pros
Lasts longer
Scratch-free and impervious to cracks
Blends well with different settings
Soft and warm undertones
Easy to clean with a simple homemade solution
No visible watermarks and fingerprints
Cons
More expensive than chrome
Requires regular maintenance
Oil Rubbed Bronze
Image source: Decor Pad
Oil-rubbed bronze faucets are a classic fixture with deep chocolate colors that match Mediterranean settings. They can be a great substitute for brushed nickel and standard chrome. They also resemble bronze and have a copper undertone that may appear warm brown while others appear black, depending on the manufacturer's production.
Pros
Sturdy
Easy to find and clean
Simple to match with fixtures, accessories, and other decors
No visible fingerprints or water stains
Looks elegant due to its traditional look
Cons
More expensive than most finishes
Needs regular maintenance to prevent fading
Copper
Image source: Overstock
When coupled with muted materials in a Tuscan or farmhouse setting, copper's distinctive and durable qualities provide an opulent impression. Scratch marks are remedied by copper through blending with patina over time (healing itself).
Pros
Rust-resistant
Very elegant design
Has built-in antimicrobial qualities
Easy to find
Cons
Expensive
Requires greater care
Develops a patina without regular polishing
Hard to match with other fixtures
Not so durable
Satin bronze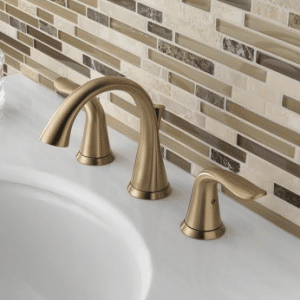 Image source: My Decorative
Between copper and oil-rubbed bronze, satin bronze provides a lovely, smooth surface. This finish is more adaptable to many bathroom types and settings because of its softer color and complements both modern and classic designs.
Pros
robust
simple to keep and clean
excellent replacement for copper and oil-rubbed bronze
no visible fingerprints and water stains
Cons
harder to locate
higher in price.
challenging to match accessories and other fixtures
Best Bathroom Faucet Finishes for 2022
In choosing the right faucet, you have to consider a lot of options to match your interior setting and budget, as well as consider durability and maintenance. With these numerous types of faucets in the market, it's hard to find the best one especially if you're contemplating based on the mentioned considerations.
Polished brass
Satin bronze
Brushed nickel
Satin brass
Oil-rubbed bronze
Chrome
Matte black
Copper
Polished nickel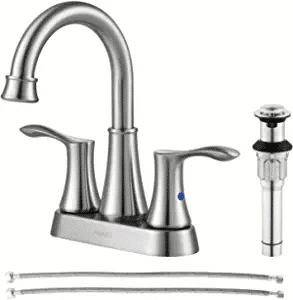 Image source: Amazon
On Amazon, the best-selling faucet brand is Parlos brushed nickel faucets at a price that ranges from $40 – $49 (including other finishes). With its thousands of sold products (7,569), it has
earned an almost 5-star rating from its customers.
Best Kitchen Faucet Finishes for 2022
In recent years, kitchens were using contemporary faucets that surpassed the standard faucets that have been available and utilized for so long. These trending kitchen faucet finishes knocked down the old design and matched the changing interiors of modern architecture.
Brushed brass
Stainless steel
Oil-rubbed bronze
Brushed nickel
Polished nickel
Polished chrome
Matte black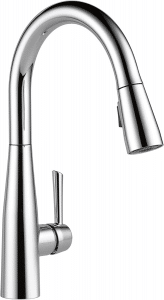 Image source: Amazon
For the kitchen faucet finish, Delta chrome faucets win with its more than 11,000 sold products in Amazon, $130 – $269 range per piece, and a rating of 4.6 out of 5 stars.
Best Faucet Finish for Hard Water in 2022
Hard water build-up on faucets has been a tedious task over time. If not attended regularly, it might cause broken fixtures in the end. But today, certain faucet finishes can withstand or eliminate them.
Spot-resist brushed nickel
Polished chrome
Oil-rubbed bronze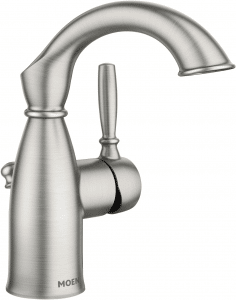 Image source: Amazon
Moen's spot-resist brushed nickel faucet proves its efficiency in avoiding hard water build-up with its more than a thousand sold products on Amazon, 4.7 out of 5 stars rating, and a $72 – $83 price range.
On-Trend Branded Faucet Finish
Which one is the best finish for both kitchen and bathroom in 2022? Haven't decided yet? The following selections will help you find what you're looking for.
Delta Faucet Finishes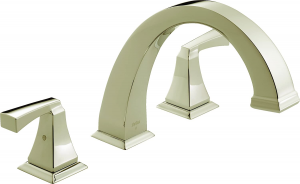 Image source: Amazon
Delta champagne bronze faucet
Delta champagne bronze faucet is an extremely similar shade of brushed copper to Antique Brass (bright gold).
Delta oil-rubbed bronze bathroom faucet
Delta oil-rubbed bronze bathroom faucet is an eye-catching addition to the bathroom that mixes squared edges and sloping angles with a sturdy foundation.
Delta polished brass bathroom faucets
Delta polished brass faucet is a lacquer-coated, lustrous finish that resembles gold and keeps its luster.
Delta brushed gold bathroom faucet
Delta brushed gold faucet, also known as brushed brass, is a subtle, rather than brilliant, dull gold tone, comparable to polished brass.
Delta Trinsic kitchen faucet champagne bronze
Delta Trinsic faucet champagne bronze is a very light reddish tent and a pale bronze finish.
Delta polished nickel
Delta polished nickel contrast the subdued gold tones, reflecting dark shadows from your space.
Delta antique brass bathroom faucets
Delta antique brass has a warm, rich appearance that can add a touch of elegance to any space.
California Faucets Finishes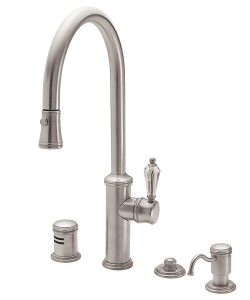 Image source: California Faucets
California faucets satin brass
The most popular name for this kind of finish is brushed brass. California satin brass faucets
have a gloss that mimics dull gold rather than polished brass's dazzling sheen.
California faucets satin bronze
California faucets offer satin bronze finishes known for their durability and resistance to corrosion.
California faucets antique brass
California antique brass faucet is highly resistant to tarnishing and corrosion and is relatively easy to maintain.
Kohler Faucet Finishes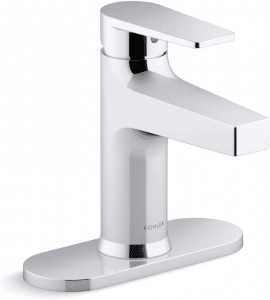 Image source: Amazon
Kohler brushed brass
Kohler brushed brass is a vibrant finish with a brushed finish that softens the deep yellow gold.
Kohler champagne bronze
Kohler champagne bronze finish is a warm, golden brown that offsets the cool tones of stainless steel.
Kohler vibrant brushed nickel
Kohler vibrant brushed nickel finish has a softer, more subdued look than stainless steel, and is still very durable and easy to maintain.
Kohler pot filler matte black
Kohler offers a wide range of pot fillers in matte black and has a modern look that can complement a variety of design styles.
Kohler rose gold faucet
Kohler's rose gold faucet finish offers a warm, elegant, and consistent quality for homeowners and modern architecture.
Kohler 2MB finish
Kohler 2MB finish is resistant to corrosion and tarnishing, and it has a high shine.
Kohler BV finish
Kohler BV finish is the vibrant brushed bronze finish that offers subtle neutral tones between modern and classic interior designs.
Kohler PVD finish
Kohler use cutting-edge Physical Vapor Deposition (PVD) technology to produce exquisite finishes.
Kohler moderne brushed gold
Kohler's moderne brushed gold finish is applied over a base metal, typically brass. The finish is then brushed to create a textured look.
Kohler purist finishes
The refined, simple appearance of the Kohler Purist finish appeals to both design experts and sophisticated consumers.
Kohler 2bz finish
Kohler 2bz finish faucet has a sophisticated appearance, durable, and is resistant to tarnish and corrosion.
Kohler vibrant stainless finish
Kohler vibrant stainless finish is a soft, subtle finish that matches a variety of contemporary home and faucet designs.
Moen Faucet Finishes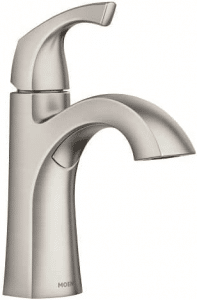 Image source: Amazon
Moen Rinza brushed nickel
Moen Rinza brushed nickel is a modern faucet finish that is highly resistant to corrosion and tarnishing.
Moen Rinza matte black
Moen Rinza matte black is highly preferred by most contemporary homes for its unique design and color.
Moen champagne bronze
Moen champagne bronze is a relatively new finish that is resistant to corrosion and tarnishing, and has a sleek, modern appearance.
Moen pot filler brushed gold
The Moen pot filler in brushed gold has a stylish design and useful features that make it possible to easily fill pots on all stove burners.
Moen Gibson matte black
Any space gets a little more sophisticated with the Moen Matte Black faucet finish.
Moen brushed brass
Moen brushed brass is a popular finish that is perfect for those wanting a traditional look with a touch of luxury.
Moen antique brass
Moen antique brass bathroom faucets have a darker, richer finish, a popular choice for many homeowners due to their unique finish.
Moen Venetian bronze
Moen Venetian bronze is a great option that offers a unique look, perfect for those who want an old-world feel in their bathroom or kitchen.
Moen brushed platinum
Moen brushed platinum is the most expensive finish on the market today, but it provides unsurpassed durability and resistance to corrosion and tarnishing.
Faucet Finish: In Summary
With all the trending fixtures in 2022, our list of the most popular faucet finish can be your guide in finding the perfect one for your bathroom and kitchen.