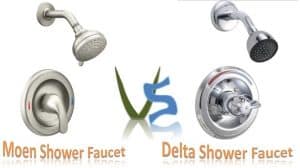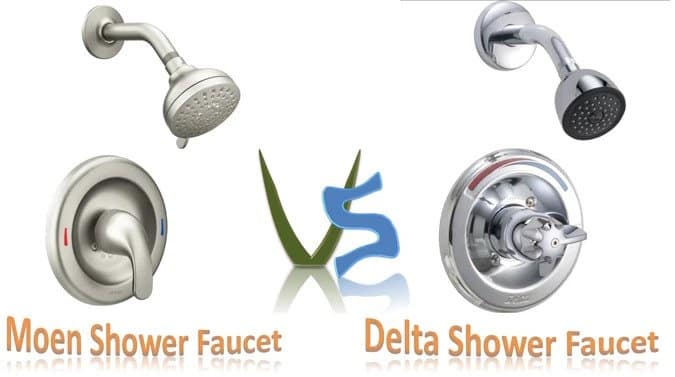 Image Source: Plumbingways
As two of the leading brands of shower faucet makers, it is no surprise that Moen and Delta faucets are often compared. They each have their own strengths, distinct appearances, and functionalities. However, the long-standing question among consumers still remain. Is Delta or Moen a better faucet? Find out below.
Moen overview
What is a moen

Image Source: WikimedaCommons
Moen is a leading North American faucet brand the produce top of the line shower heads, bath faucets, kitchen faucets, bath safety products, kitchen sinks, garbage disposals, and many more for both residential and commercial clients. They pride their company for its useful features, meaningful innovation, and lasting value.
Pros of moen
Simple installation
Offers touchless MotionSense technology
Has plenty of model options including different styles, finishes, and colors
Shower faucet has a pop-up drain
Shower faucet has several varieties of faucet styles to choose from including contemporary, traditional and transitional design options
Available in a wide range of finishes
Durable because of its high quality materal
Widely available even in local stores
Has a limited lifetime warranty
Cons of moen
Its plastic products are not as long-lasting as metal ones
Has no warranty coverage for incorrect installation
Installation may be complicated when the distance between the wall and the supply line is minimal
Less expensive options are limited
Installation may need customization due to the wide variety of faucet dimensions
When a touchless model fails or is damaged, you have to wait for its replacement to arrive because of its semi-automatic design
Delta overview
What is delta

Image Source: Deltafaucet
Delta Faucet Company is a producer of different kinds of sink and bathroom faucets, showerheads, bathtub items, toiles, kitchen and bathroom accessories, and many more based in Indianapolis, Indiana but has global manufacturing facilities. It is a market leader with a good growth and excellence track record.
Pros of delta
Simple installation
Offers Touch₂O.xt technology which allows users to operate the faucet by using the handle, placing their hands near the faucet, or tapping the faucet handle or the spout
Can be installed using a two-way screw that is user-friendly and hard to mess up whether there is a wide or tight space
The lineup of choices is more affordable
Has a limited lifetime warranty
Features and components are wholly made of metal
Cons of delta
Focuses on one shower line
Only offers an overflow drain which may not be best in allowing for powerful performance in the sink
Has specialized installation instruction that requires expert assistance
Only offers one type of handle with only two options of shapes, oval and rectangle, which may not suit everyone's taste
No additional designs or styles are available for their straightforward model
Has fewer finish options
Does not have an adjustable spray
moen vs delta bathroom faucets
Moen brushed nickel vs delta stainless
Model

6610BN

2538-SSMPU-DST

Design

Moen Eva

Delta Lahara

Finish

Brushed Nickel, but it also comes in Chrome and Oil Rubbed Bronze finishes

Stainless, but it also comes in Champagne Bronze, Chrome, and Venetian Bronze finishes

Technology

Centerset Mounting Type;




Two–handle lever handles for ease of adjustment; Aerated flow; Compliant with Americans with Disabilities Act (ADA) specifications

Deck Mount Mounting type; Diamond Seal Technology which uses a patented design that reduces leaks and is twice as durable as the industry standard; Has




InnoFlex PEX supply lines that reduce leak points; a Diamond Valve eliminates wear on seals and the need for lubrication; Easy installation

Pricing on the market

$150.37

$144.16
moen or delta kitchen faucet
| | | |
| --- | --- | --- |
| Model | 8792 | 21996LF |
| Design | Commercial Two-Handle M-Bition Kitchen Faucet with Side Spray | Windemere 2-Handle Kitchen Sink Faucet with Side Sprayer in Matching Finish |
| Finish | Polished Chrome | Chrome, but also comes in Oil Rubbed Bronze and Stainless finishes |
| Technology | Deck Mount Mounting type; Hot and Cold color indicators on lever style handles; Classic Chrome Finish;Levers are compliant with Americans with Disabilities Act (ADA) specifications; Has a matching retractable chrome mounted sidespray | Deck Mount Mounting type; Classic Chrome Finish; Compliant with Americans with Disabilities Act (ADA) specifications; Has a retractable matching chrome mounted sidespray |
| Pricing on the market | $199.51 | $64.13 |
moen vs delta shower faucets
Since both brands carry many of similar products, moen vs delta bathtub faucets are also compared.
Model

UT3003EPBN

T14435

Design

Gibson Brushed Nickel M-CORE 2-Series RS Tub/Shower

SAYLOR™




Monitor® 14 Series Tub & Shower Trim In Chrome

Finish

Brushed Nickel, but also comes in Chrome

Chrome, but also comes in Champagne Bronze, Matte Black, and Stainless

Technology

compliant with Americans with Disabilities Act (ADA) specifications; M-CORE-4 cartridge included with the trim; full spray; Moen M-PACT common valve system; includes red and blue markings

compliant with Americans with Disabilities Act (ADA) specifications; Spray settings include: Full Body spray, Massage spray, Full Body spray with Massage, Shampoo Rinsing spray, and Pause; Touch-Clean® spray holes fro easy cleaning

Pricing on the market

$314.36

$205.75
delta vs moen shower valves
| | | |
| --- | --- | --- |
| Model | T4621 | T27T989-PR |
| Design | Cia Chrome ExactTemp® Tub/Shower Valve Only | TempAssure 17T Series Integrated Diverter Trim With 6-Setting In Lumicoat Chrome |
| Finish | Chrome, but comes in Brushed Nickel, Brushed Gold, and Matte Black | Lumicoat Chrome, but comes in Lumicoat Champagne Bronze, and Lumicoat Stainless |
| Technology | compliant with Americans with Disabilities Act (ADA) specifications; ExactTemp® thermostatic valve technology; Moen M-PACT common valve system | compliant with Americans with Disabilities Act (ADA) specifications; TempAssure® thermostatic valve technology; MultiChoice® Integrated Shower Diverter; Lumicoat™ Finishes for easy cleaning |
| Pricing on the market | $203.21 | $508.30 |
moen or delta: which is better
While Moen and Delta are often compared, no brand has clearly won. The best ultimately comes down to the specific features of the different types and models of the brands.
moen vs delta styles
Moen is available in a wide array styles. They have modern, classic, and even vintage-looking styles that when matched with the different available finishes and colors will surely match the look of your bathroom or kitchen. Delta has a selection of different styles as well. The brand also has modern and classic styles that come in different colors and finishes.
moen vs delta technology
Both the Moen and Delta brands offer high quality products with the industry's most advanced technologies. Moen has its MotionSense Technology while Delta has Touch20.xt technology. Both technologies allow users to turn on the water flow without touching the faucet itself. This allows for a more hygienic washing and a hassle-free usage.
moen vs delta finishes and colors
Moen and Delta both have a variety of finishes and colors that will help match any aesthetic. Moen products' finishes include Brushed Nickel, Oil Rubbed Bronze, Matte Black, Chrome, Brushed Gold, and others while Delta styles have several finishes including both standard and lumicoat Champagne Bronze, Chrome, Matte Black, Polished Nickel, and Stainless.
moen vs delta price
Moen and Delta offer different products for different price points and budgets. However, Delta does appear to cost less with the considerations that the components in building the products are mostly metal. Moen has plastic parts which some may or may not prefer. It ultimately boils down to the customer's budget and preference.
moen vs delta designs
Moen and Delta brands offer different designs and variations of the existing designs. Some designs of Moen may be comparable to Delta, and vice-versa. You may find a certain color or finish in one brand that may not be available in the other, while one brand may be carrying a style you like that may not be carried by the other brand.
moen vs delta durability
While both Moen and Delta offer high quality and durable faucets, Delta has an edge considering that its products' parts are mostly metal compared to Moen which carry plastic parts. Therefore, some people consider Delta to be more durable. However, both brands to perform well and do last long and both carry limited warranty.
delta vs moen reliability
Delta and Moen both offer top performing and reliable products. Both use high quality materials in its components and both are among the top brands in the country. However, Delta is preferred due to the reliability in its metal parts since metal is generally more reliable and more longer-lasting thant plastic components.
moen vs delta quality
Moen and Delta are brands that are both in the top among faucet brands in the country making their quality the best in their kind. However, some Moen models are made of higher quality materials than that of its Delta counterparts. It is worthy to note, however, that both brands can last 15 to 20 years with proper maintenance and usage.
moen vs delta water flow
Both the Moen and Deltra brands have options for water flow installation. Moen has two and three-hole installation. A single control valve or two-handle valve may be chosen depending on the preference of the user. Delta, on the other hand, has a single control valve and an option for multi-control valves for added freedom of choice and usage.
moen vs delta components
Moen and Delta brands and components are different from each other and not interchangeable. Moen has parts that are made up of metal and plastic, unlike Delta which purely has metal components. With this said, some of Moen's valves are more durable compared to Delta while some of Deltar's parts are more durable than Moen's. Both brands, however, are long-lasting.
moen vs delta installation
The ease or difficulty of installation of either Moen or Delta depends on the specific product. Moen shower faucets, for instance, are relatively easy to install and no longer need special tools. You may even install it on your own without the need of a plumber, while Delta's counterpart has a bit more complicated instructions which may require expert assistance.
Delta is better in terms of
Delta offers a wide array of designs, mount types, colors, finishes, price points, and other variations to choose from.
Altough some designs may require expert assistance, Delta brand products are easy to install and may be installed without the help of a plumber. You may even be able to save some money if you install it on your own.
Delta faucets and their other products are comparatively more affordable than most of its counterparts from other brands.
Moen is better in terms of
Moen offers one of the largest selections of styles and designs in the industry. They have moder and classic styles and several finishes to choose from.
Moen has extensive warranty coverage compared to most brands. It covers most components and aspects of its products.
The styles and types of faucets Moen has in its arsenal is substantial and the choices of colors and finishes are available to suit any aesthetic.
moen vs delta: common FAQs
How to tell if you have a delta or moen faucet
First, check to see if there is a specific label that identifies the brand. If there isn't, try to check the packaging or instructional manual of the faucet. Try to look for the model online through descriptions or any markings from the component or use google lens.
Is moen a good brand for bathroom
Moen is a top brand for bathroom needs, be it showerheads, faucets, valves, and other bath accessories. They also carry bathroom rods and rings, spa systems, toilets and bidet seats, sinks, toilet tanks and levers, mirrors, and others bathroom parts and accessories that are high quality and technologically-advanced.
Do plumber prefer delta or moen
As with the preference of customers, same goes for the plumbers. Plumbers may prefer either of the two brands. One plumber may prefer Moen, while another may prefer Delta. Each have their own strength and little issues and both brands are preferred for their availability, reliability, and over-all quality.
Are moen and delta the same company
Moen and Delta are not the same company. In fact, these two are strong competitors of each other, being two of the leading independent companies in the United States. They are often compared and contrasted and their products often go head-to-head against each other.