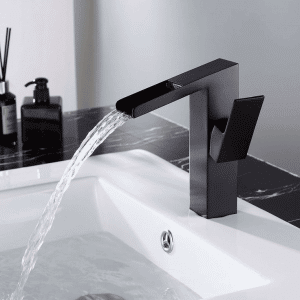 Image Source: Pinterest
Waterfall taps have wide and flat spouts that make the water flow more naturally. They use lower water pressure, resulting in fewer splashes and reduced water usage. They come in many configurations, ranging from deck-mounted to freestanding faucets. If you're looking to add a stylish touch to your kitchen or bathroom, waterfall faucets are a good option you can try.
Waterfall Faucet by Materials
Brushed nickel waterfall faucet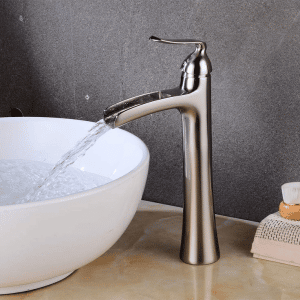 Image Source: Pinterest
Brushed nickel waterfall bathroom faucets tend to be highly durable. The finish is brushed into the metal and coated with lacquer, making it wear-resistant.
Bronze waterfall faucet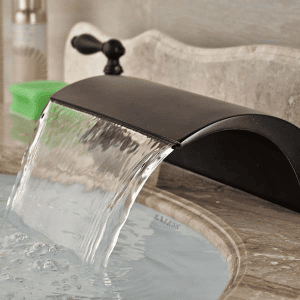 Image Source: Pinterest
Bronze or oil-rubbed bronze waterfall faucets are extremely durable, especially against frost damage. They are also easy to maintain, spot-resistant, and feature a stylish dark color.
Matte black waterfall faucet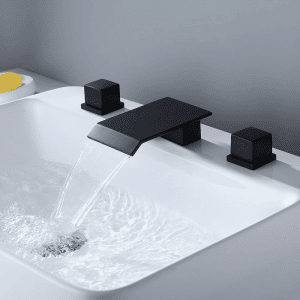 Image Source: Pinterest
If you are looking for an easy-to-clean and scratch-preventive tap, a matte black waterfall bathroom faucet would be a great option.
Chrome waterfall bathroom faucet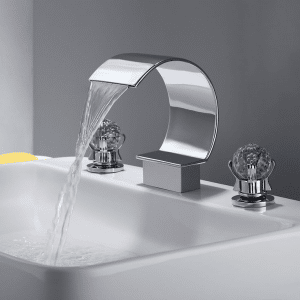 Image Source: Pinterest
One that never goes out of style is a chrome waterfall bathroom faucet. With its shiny and easy-maintenance appearance, it'd be a great fit for both traditional and modern themes.
Waterfall Faucet by Functions
Touchless waterfall bathroom faucet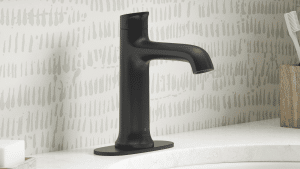 Image Source: Gadget Flow
Touchless waterfall bathroom faucets use infrared sensors that, when triggered, make the faucet automatically dispense water. They're a great choice when sanitary and water-saving purposes are a priority.
LED waterfall faucet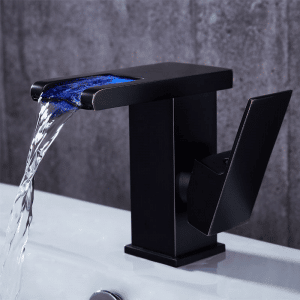 Image Source: Pinterest
LED waterfall faucets can be amusing and safer to use than other faucets. They can also indicate whether the water is hot or cold, and usually don't take electricity with its hydroelectric system.
Waterfall Faucet by Styles
Modern waterfall faucet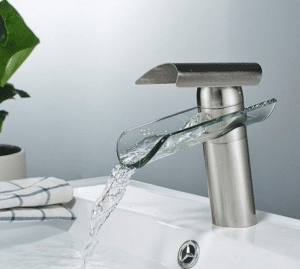 Image Source: Pinterest
Modern waterfall faucets typically align with minimalist themes, innovative designs, and similar appearances. They also usually come with advanced features like touchless sensors and LED lights.
Waterfall Roman tub faucet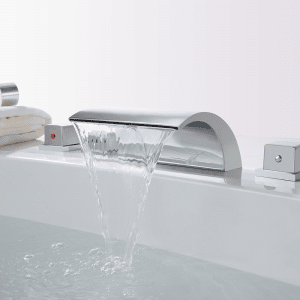 Image Source: Pinterest
Waterfall Roman tub faucets feature higher flow rates and are usually in a deck-mounted design. They are also modeled as center sets or widespread faucets since temperature control is crucial for your bathing time.
Waterfall Faucet by Mounting Ways
Waterfall wall mount faucet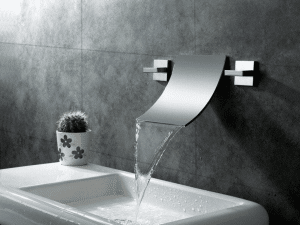 Image Source: Pinterest
If you want a more spacey countertop or looking for a cleaner look for your bathroom or kitchen, a waterfall wall-mounted faucet would be your best option.
Deck mount waterfall tub faucet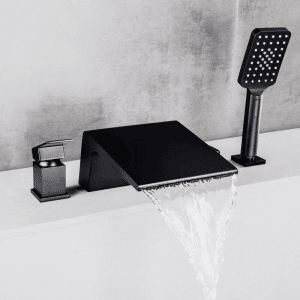 Image Source: Pinterest
Deck-mounted waterfall tub faucets are generally favored over other types because of their easier installation. Since they're one of the most used, you can rest assured that they will never get out of style.
Centerset waterfall faucet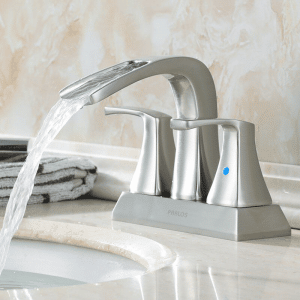 Image Source: Pinterest
Centerset waterfall faucets are great to get if you are looking for a more compact bathroom fixture. They're easy to install as they come in one deck plate too.
Widespread waterfall faucet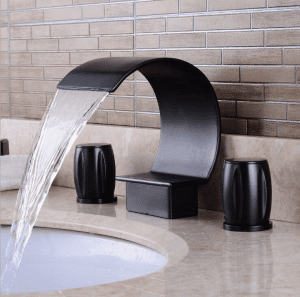 Image Source: Pinterest
If you have more space in your bathroom, a widespread waterfall faucet may be more suitable. This requires three holes, one for the faucet spout and two for the hot and cold water handles.
Freestanding waterfall tub faucet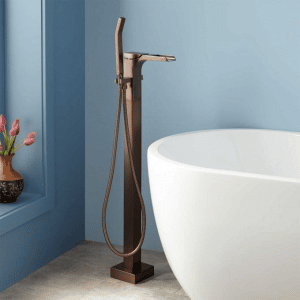 Image Source: Pinterest
Since a freestanding tub can be placed virtually anywhere inside your bathroom, a freestanding faucet ensures that you can fill your tub at any location too.
Water Faucet by Vanities
Waterfall faucet for vessel sink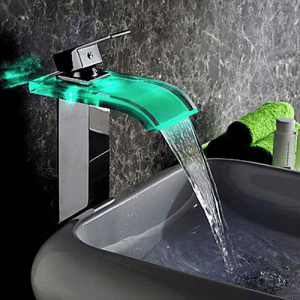 Image Source: Pinterest
Vessel sinks are tall, which makes them need similarly tall faucets. Waterfall faucets for vessel sinks are water-saving options you can try.
Waterfall faucet for jacuzzi tub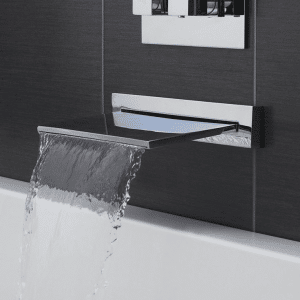 Image Source: Pinterest
Waterfall faucets for jacuzzi tubs may come in all types of mounting, such as a deck, wall, freestanding, centerset, and more
Waterfall faucet for freestanding tub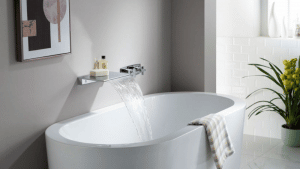 Image Source: Isenberg
Waterfall faucets for freestanding tubs are best installed on the wall or as a freestanding water source. This may need you to put your freestanding tub near a wall.
How Does a Waterfall Tap Work?
A waterfall tap has a flat spout, which means that the water will be dispensed widely. This way, a waterfall-like water flow is created. Its configuration also allows for a good flow rate with lower water pressure, effectively saving water. Plus, it's visually attractive, making it a perfect fit for any bathroom or kitchen application.
Are Waterfall Faucets Good?
Waterfall faucet pros
Do waterfall faucets work well?
Waterfall faucets not only feature good appearances but are also known to be helpful in saving water. Plus, they're a space-saving solution since the common designs come in single-hole and single-handle configurations.
Do waterfall faucets splash more?
No. Waterfall faucets are designed to require less water pressure, ensuring that the water doesn't splash against the sink or basin. As it mimics the naturally slow flow of water, it is splash-preventive.
Are waterfall faucets out of style?
Waterfall faucets only emerged in recent years, so they're definitely an increasingly popular plumbing fixture among homeowners. On the contrary, since they're new, the designs available may be limited.
Waterfall faucet cons
High-end waterfall faucets
While you can buy waterfall faucets at low prices, one way to ensure good quality in your purchase is to get them from high-end brands. This makes the average cost of waterfall faucets, non-inclusive of their installation, to be high.
Do waterfall taps get limescale?
If your area uses hard water sources, chances are that your waterfall taps will get limescale. This can be a disadvantage in terms of sanitation and aesthetics. Of course, with regular and appropriate cleaning, your waterfall tap can retain its attractive look.
Overall, waterfall faucets are definitely some of the best plumbing fixtures that you can opt for. While it can be a matter of preferences, its water-saving and aesthetic features are worth considering.
Common Waterfall Tap Problems (How-to Repair Tips Included)
Waterfall tap not flowing properly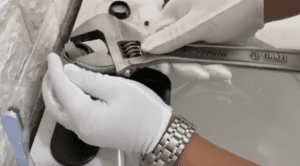 Image Source: YouTube
Your waterfall faucet's flow restrictor may be clogged when the water is not flowing properly. To fix this, simply follow the steps below.
Begin by removing the handle of your waterfall faucet. You may need an Allen wrench depending on the faucet model.
Pull out the cartridge and you will see the flow restrictor.
Pull out the flow restrictor and clean it with a safety pin or brush.
Reassemble the parts and you're done.
You should also consider the flow rate of your waterfall faucet or the indicator that answers the question "how much water does a faucet use per minute?" This will tell how much water you should expect from the tap when using it.
Waterfall faucet too much pressure
Water pressure may be highly dependent on the area you're living in, and if yours happens to have a high level, it should be no surprise for your waterfall tap to have too much pressure. There are two ways to fix this:
Use a flow restrictor. This way, you can reduce the water flow of your tap, but the high pressure may cause your tap to produce noise.
Use a pressure-reducing valve. As its name implies, it controls the water pressure itself. However, this may also affect the pressure of other plumbing fixtures inside your home, like your shower. The thing can also be expensive.
Waterfall faucet so loud
This may be because of too much water volume, which can easily exceed the amount your flow restrictor supports. A simple fix to this is to lower the supply by lowering its opening level.
How to Install Waterfall Faucet
Here's how you can install your new waterfall faucet. Note that the steps below are for widespread waterfall faucets.
Install the faucet spout in the middle. Insert the spout in the hole and secure it below the sink using the accompanying washer and nut.
Put the valves in place. Keep in mind that the hot water valve goes on the left and the cold water valve on the right. Secure using the nuts.
Attach the triple tube. This allows the hot and cold water to meet at the center to produce the right water temperature out of the spout.
Connect the lines to the valves and the water supply.
Waterfall Faucet Reviews
Best waterfall bathroom faucet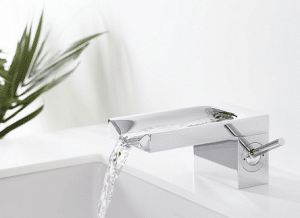 Image Source: Kohler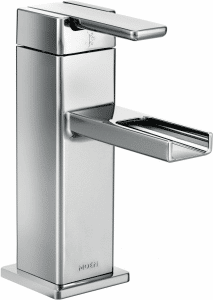 Image Source: Amazon
Kohler and Moen are leading brands in the industry, and they're famous for innovative and quality waterfall faucets. Since they're high-end brands, prices range from US$ 500 to more than US$ 1000. For instance, the Moen waterfall faucet featured above costs US$ 729 on Amazon.
Best waterfall kitchen faucet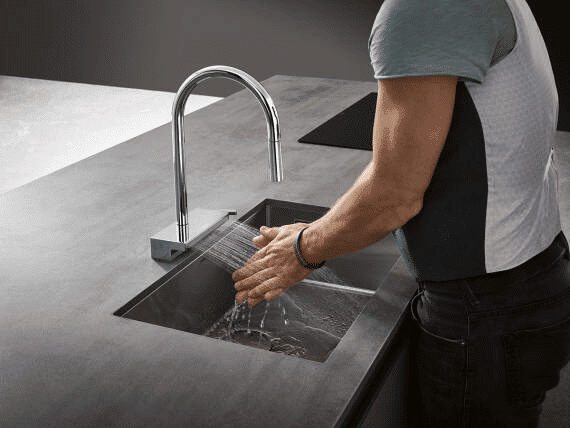 Image Source: Hansgrohe
Hansgrohe is also a popular brand among kitchen waterfall faucet makers. Hansgrohe kitchen faucets are well-known for their 2-in-1 products that also feature a horizontal water sprayer. Such a design makes it easier for users to clean their hands and dishes more efficiently. Prices start at US$ 450.
Where to Buy Waterfall Faucet
For individual usage, waterfall faucets are best bought on online retail platforms like Amazon, Wayfair, Home Depot, and similar sites. This lets you choose among a variety of designs and configurations, such as waterfall taps for basins, aside from knowing which ones truly work well as experienced by other buyers.
For business and commercial purposes, contacting a reliable manufacturer and supplier is key to ensuring good business. TCK is a leading manufacturer of innovative faucets and plumbing fixtures in China. With a minimum order quantity of as low as 50 pieces, TCK is sure to guarantee quality and timeliness for you.