A modern deck plate cover, also called a keyhole plate, is mounted at the bottom of the sink faucet. What is the deck plate's function, what is it used for, and what happens if you have none for your sink faucet kitchen? These concerns and more will be addressed in this article.
What Is A Deck Plate for A Faucet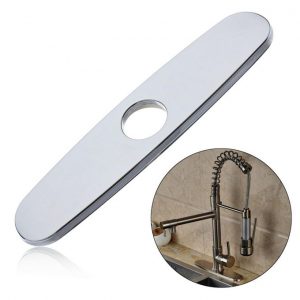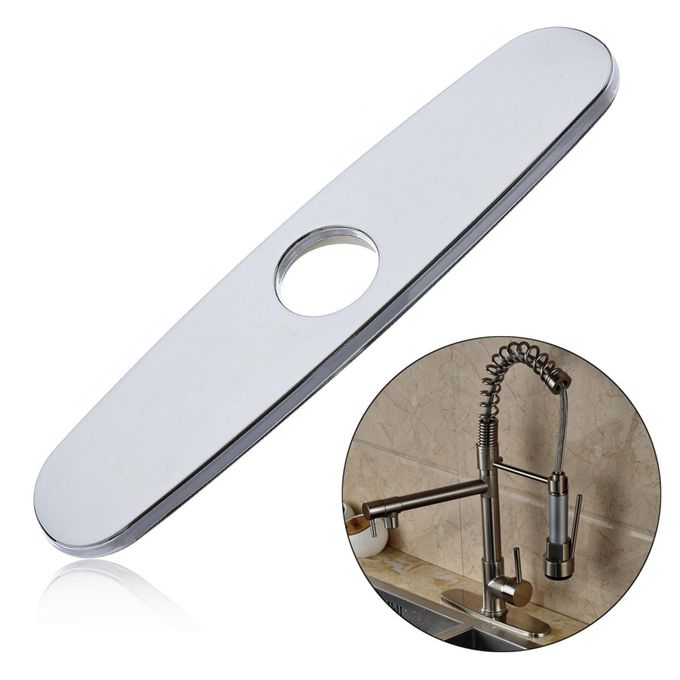 Image Source: Jumia Nigeria
What is a faucet deck plate? Deck plate faucet covers are ornamental plates that cover up mounting holes in the kitchen or bathroom countertops and allow for the installation of a one-hole faucet on a three-hole countertop, giving it a neat look.
Faucet deck plates come in different designs. Some are round or square, with various finishes, and suitable for almost all faucet installations. If you need help installing one, you can find someone experienced with plumbing tools with remodeling projects to assist.
Since deck plates cover extra sink holes, they can be over-mounted or under-mounted on the sink, depending on the design and customers' preferences.
What is the Purpose or Function of a Deck Plate for a Faucet
Faucet deck plates are one of the aesthetically appealing parts of a kitchen or bathroom sink. Although they may be overlooked or taken for granted, they give the sink an utterly unique look when done.
Additionally, it is a unique furniture piece that must be carefully selected to form a concurrent base for the faucet and complete the sink's appealing sight.
Various sinks come with different holes, giving buyers and end users options about what kind to select and how they function. A single faucet that is multifunctional will not only have a stylish deck plate but components that separate it from other holes that serve no purpose.
Is a Faucet Deck Plate Necessary?
Do you need a deck plate for your kitchen faucet? No, a faucet deck plate isn't all that necessary. Having one will help the purpose and functioning of your sink. However, if you want a good-looking and classy sink, you can opt for a base plate when installing the sink. And at the same time, a sink can be installed without the base plate.
Can You Install a Faucet Without the Deck Plate
Since some kitchen or bathroom faucets come with a deck plate, they may be installed with or without the faucet, depending on the type and configuration.
However, if you decide to install your faucet without the deck plate, there are ways to cover still the holes or alternative options to having a clean sink after installation. They include;
Installing an in-counter soap dispenser allows you to refill the bottle from the top without crawling underneath the sink.
Relocate the garbage disposal switch to the right side of your faucet.
You can install an instant hot water dispenser or an under-counter water filtration unit, depending on where the extra sink holes and space are found.
Replace a 3-hole sink faucet with a single-hole faucet which usually costs around $3-$4.
Are Faucet Deck Plates Hard to Install?
As faucet deck plates are a single kitchen or bathroom component, the installation process is easy. Depending on your experience with renovation or repairing it, it may be easy to come by.
The proper thing to do is to ensure the deck plate is properly fixed to the faucet and adequately sealed. Another thing is to follow up with the manufacturer's manual to be sure you're on track.
Are Faucet Deck Plates Universal?
As a result of many different styles, kitchen faucets are universal. The deck plate is often the differentiating factor, with some mounting holes having a standard of 1 3/8″. However, there are faucet with 1 or 1 1/2″ mounting holes.
In most cases, faucet deck plates universally fit most single-hole kitchen and bathroom faucets like 4″ and 8″ bathroom faucets. In other words, you can replace a 3-hole faucet with a single-hole faucet and fill up the other holes with a soap dispenser.
The typical faucet deck plate sizes that are available is listed below. You can check them out.
#1 10.35 Inch Round Faucet Desk Plate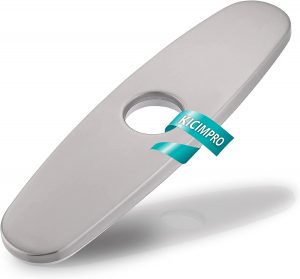 Image Source: Amazon.com
#2 6 inch universal faucet deck plate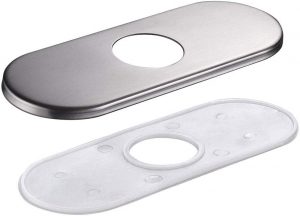 Image Source: Amazon.com
#3 10 inches for single hole faucet cover plate
Image Source: Pinterest
#4 8 inches brushed nickel faucet deck cover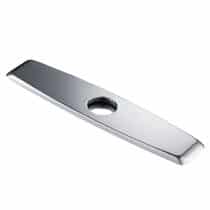 Image Source: Wayfair.com
How Do You Cover Extra Faucet Holes?
The easiest and most inexpensive way of covering the extra faucet hole is to use faucet-hole caps or covers. They come in different arrays of materials, colors, and mounting styles and are an ideal solution to covering a kitchen sink with extra holes. Ensure you measure the diameter and thickness of the hole you intend to cover to get the appropriate size range.
What Can I Do With Unused Faucet Holes?
If you choose not to cover the unused holes in your faucet, there are several creative ways to use the holes. We have listed a few below that will be helpful.
You can install a glass rinser in the extra hole. The easy-to-use glass rinser comes in different finishing to match your sink faucet, and they are best at keeping your cups clean.
The extra holes can serve as an air switch. An air switch easily installed into the extra hole allows you to turn on and off your garbage disposal.
Install a bud vase to add color and life to your kitchen sink.
Turn the extra hole into an instant hot water dispenser with water filtration. This is great for tea lovers or people who like the convenience of water.
The extra hole in your sink can serve as a lotion dispenser.
Faucet Deck Plate Types for Different Faucets
The features below best describe the different faucets and the factors you should consider when renovating, repairing, or upgrading one.
Cartridge Faucets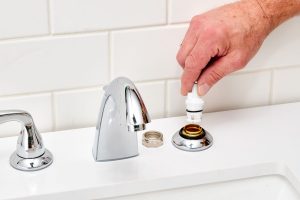 Image Source: The Spruce
The double handle of a cartridge faucet has a smooth and consistent way of handling it. With a half turn, the handle goes on and off the position. The faucet is durable and easy to fix or replace. The same goes for the faucet deck plate.
Disc Faucets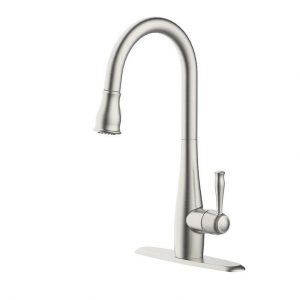 Image Source: Pinterest
The ceramic disc faucet is identified by a single lever over a vast cylindrical body. The two discs at the bottom of the chamber raise and lower to control the flowing water.
Ball Faucets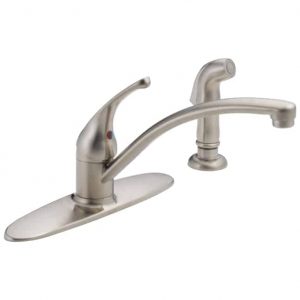 Image Source: Lowe's
Ball faucets are identified by their single handle surrounding a rounded ball-shaped cap placed above the base plate of the faucet spout. The outer part of the faucet is durable, but the inner needs constant maintenance.
Compression Faucets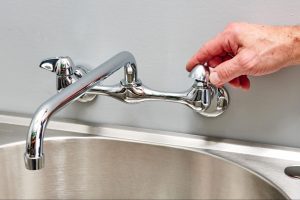 Image Source: The Spruce
Compression faucets are identified by their separate hot and cold water handles and the need to tighten them to close the water flow. The aesthetical design fits the style of old homes.