Faucets are at the top of the priority list when it comes to crucial bathroom fittings. Choosing the best brand for your requirements, style, and price can be difficult. We've put up a list of the best German bathroom faucets brands.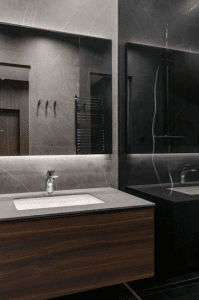 Source: Pexels
There's a lot going on in a tiny space when it comes to the bathroom. Remodeling is the perfect time to make changes that will benefit you and your family for many years to come. If you're going to buy bathroom faucets, make sure you choose the top brands. 
A sink and a faucet are essential to have in a bathroom. It's difficult to fathom the two of them being apart. But, you may personalize your faucet in the same way you would personalize anything else in your home.
Upgrading your faucet doesn't have to be a difficult procedure. You may replace your faucet without compromising your sink.  The ability to change your faucet brings up a world of options.
After all, one of the most obvious objects in every bathroom is the faucet. Not to mention that it's one of the most useful. But, making such a major change might be intimidating.
But, don't worry. You will never have to worry about doing more research on bathroom faucets and which brand is the best to get. In this article, we will show you some of the best German bathroom faucet brands in the world today.
List of Best German Bathroom Faucet Brands
GROHE

Dornbracht

Hansgrohe

Decor Walther 
Best German Bathroom Faucet Brands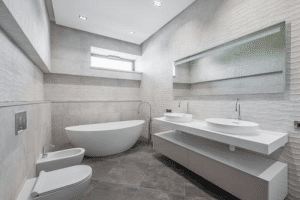 Source: Pexels
There are a plethora of stylish faucets to choose from for your bathroom. Making such a major change may also be intimidating. Here are the best german bathroom faucet brands to consider when you're ready for a new look.
GROHE
Type of Business: Manufacturer
Headquarters: Hermer, Germany
Year Founded: 1936
Products offered: Urinal Bidet, Bathroom  Faucet, Wash Basin, Manual Faucet, Touch Free Sink Faucet, One Hole Bathroom Faucet , Wall Mounted Automatic Faucet and Bathroom Accessories.
Annual Revenue: EUR 1.35 billion
Source: GROHE
GROHE is a global leader in comprehensive bathroom and kitchen solutions. GROHE has over 6,000 workers worldwide, 2,400 of whom are in Germany. GROHE promotes the brand principles of technology, quality, design, and sustainability. As an international brand, GROHE is aiming to provide the "Pure Joy of Water." Since its foundation, GROHE is persistent in creating new product categories.
Innovation, design, and development are all intertwined as a process. As a result, GROHE products have the "Made in Germany" quality label. GROHE has earned over 300 design and innovation awards in the last 10 years alone.
GROHE has earned the title "Germany's most sustainable big brands". GROHE was the first company in its field to receive the German government's CSR award. 
The GROHE Corporate Center's location is in Düsseldorf, North Rhine-state Westphalia. GROHE Design Studio is also located there, one of Germany's fashion and design centers. The company operates in over 130 countries. GROHE has easy access to international infrastructure at its new site.
GROHE believes in keeping internal and international channels of communication open. The new Corporate Center fosters contact between workers and collaboration with market partners.  It was Richard Meier who built it, and it is transparent and open to the public.
Bathroom Product Options
Choose from a variety of knobs, spurs, and faucet sets.

Fittings that do not need touch and feature trustworthy sensors.

The water jet is activated by moving your hand.

Water-saving system.

Cutting-edge geometric design bathroom faucets.
Dornbracht
Type of Business: Manufacturer
Headquarters: Iserlohn, Germany
Year Founded: 1950
Products offered:  Bathroom  Faucet, Wash Basin, Roman Sensor, Deck Mount Faucet, Best Touchless Bathroom Faucet and Bathroom Accessories.

Source: Dornbracht
Dornbracht is a high-end luxury bathroom, spa, and kitchen fixture and accessory maker. The company has its headquarters in Iserlohn, Germany. Founded in 1950, Dornbracht today sells its products in over 125 countries.
Dornbracht is a high-end brand that stands for cutting-edge technology.  The company has high-quality standards at the factory level, "Made in Germany". With professional employees and cutting-edge production.
Dornbracht's unique product design has garnered the company international recognition. Protected by well-defined Design Principles. Dornbracht develops bathroom and kitchen fixtures based on five Design Principles.
Proportion, accuracy, progressiveness, individuality, and performance are the guiding concepts. Their devotion to these design principles ensures the products are functional and beautiful. Retaining their appeal and relevance for decades to come.
Made with the highest-quality materials and technology, Dornbracht products will last generations. Their only production plant remains at the original location in Iserlohn, Germany. This acts as a commitment to their high standards. Dornbracht swears by its pledge to maintain the quality and design of its products here.
Bathroom Product Options
Technical data services.

Custom-made bathroom products.

Electroplating technology.

Modification of product dimensions.

Modification of product performance.

Custom manufacturing.

Custom finishing.
Hansgrohe
Type of Business: Manufacturer
Headquarters:  Schiltach, Germany
Year Founded: 1901
Products offered: Bathroom Faucet, Mixers, Showers, Ssingle Hole Sensor Faucet, Touchless Bathroom Faucet with Temperature Control
Annual Revenue: 1.077 billion EUR (2017

Source: Hansgrohe
Hansgrohe represents 120 years of innovation, design, and excellence. It began as a family company and has grown to become a global enterprise. The individual is always at the center of their attention.
They have a sense of what tomorrow's needs will be and are helping to shape the future. Customers in the project business value good counsel and dependability above everything else. They're seeking items with exceptional design, high quality, and adaptability.
The Hansgrohe Group is a project partner that can provide you with everything you need in one place. Exquisite wall-mounted bathroom examples with faucets and showers exhibit their project experience. When it comes to creating bathrooms, interior designers have a lot of responsibilities.
The height of the ceiling is odd, the space is tight, and must meet the valid needs. It's ideal if the project partner is aware of these issues and can provide solutions. With their many years of experience, they're already helping you plan.
Their team will guide you through the product selection process. Then they'll teach you how to select the best lavatory faucet for your little bathroom. The finest technology meets a simple, award-winning design. Hansgrohe faucets outperform and outlast your standard fixtures.
Bathroom Product Options
Offers brochures for download

Easy installation.

Waste disposal system

bathroom faucets and accessories

Spare Parts and the Product Line
Decor Walther 
Type of Business: Manufacturer
Headquarters:  Hessen, Germany
Year Founded: 1973
Products offered: Bathroom Faucet, Mirrors, Bathroom Accessories, Automatic Taps, Sink Mounted Automatic Soap Dispenser, Touchless Vessel Sink Faucet

Source: Decor Walther
Decor Walther is associated with high-quality bathroom furniture for over 40 years.. and it's still going strong. These furnishings include lights, mirrors, and accessories. It all started in 1973 in Frankfurt am Main, Germany, with Harald Walther's tiny specialty shop. They've grown into one of the industry's leading suppliers. They have an influence that extends well beyond Germany's borders.
Their corporate philosophy has grown with their company. It's what makes their goods so distinctive on the international market. Discreet opulence These phrases encapsulate what distinguishes us from the pack. This is most expressed in our quality and design. Our goods' aesthetic language isn't fashionable, historicized, or overcrowded.
It's best described as classic yet in a subtle way. We have developed a stylistic awareness. As a result of our complete and holistic approach. Timeless beauty has a calming impact and is never monotonous.
For development and manufacturing, they choose the top people in each field. It also relies on the type of material used, such as metal, glass, porcelain, or wood. The final product reflects this. Individual manufacturing processes have a big impact. Brass is often used in their metal goods.
Hand soldering, polishing, galvanizing, and assembling, for example, are all done by hand. This type of manual manufacturing is quite difficult. It stands out because of the distinct characteristics that distinguish individual workmanship. In a way, they're their inconspicuous brand.
Bathroom Product Options
Stylistic bathroom products.

Delivery shipment options.
How to Choose a Faucet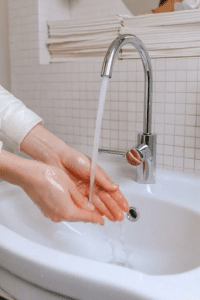 Source: Pexels
It's not only about the looks.
The majority of consumers pick a faucet based on its appearance. And it is a blunder. Aesthetics are important. You can usually get your preferred look without sacrificing convenience or long-term dependability. You may get integrated automatic faucets that can serve both aesthetics and functionality. 
Don't spend too much.
A bath faucet should cost at least $65 and a kitchen faucet should cost at least $100. You might buy a good faucet for less money, but you're more likely to get a low-quality faucet. You're paying for extra features or flair rather than fundamental reliability.
It's easier to use a single handle.
Many bathrooms, especially classic ones, enjoy the symmetry of two-handle faucets. Single-handle faucets, but, offer all the advantages of practicality. Adjusting the water temperature is simpler and there's one less handle to clean. 
Keep an eye on the spout height and reach.
Faucet spouts come in a wide range of heights and reach, and you can usually pick the appearance you want. A tall spout, but, may not fit if you have a shelf over the sink. A spout with a limited reach may not reach all three bowls in a three-bowl kitchen sink. When you wash your hands, a bath faucet with a limited reach may cause water to spill behind the spout.
How to Source Bathroom Faucets from China
If you are planning on sourcing out bathroom faucets, China is the best place to get it. Being the world's leading country with the most reputable manufacturing companies, it's a must that you get your bathroom faucets from China.
When sourcing out bathroom faucets from China, you will need to do research online. There are tons of stores and websites that you can visit. This is the best way to source out bathroom faucets in the quickest way.
You may also ask recommendations from your friends or business partners when sourcing out bathroom faucets from China and abroad. However, if you want to know how to source out the quickest way possible, searching online will lessen the stress.

Source: Xiamen OLT Co., Ltd.
Xiamen OLT has been a multi-national export business. Specializing in the research and development of high-quality sanitary ware items since 2002.  Located in Xiamen, a beautiful beach city.  With a reputation as an industry leader with high-quality design and production skills.
With a human-centered approach, the business focuses on science and technology. Engaging experienced individuals in the field of electrical technology. Resulting in the creation of a smart team of global standards. It has led the way with innovative and original concepts. TCK is a product brand name. 
The business features a well-functioning manufacturing line that includes kitchen and sanitary facilities. 19+ Years of experience has taught them to focus on the tiniest details and strive for excellence.  The company has worked with many Fortune 500 companies and sold to more than 100 countries. They adopted the high value of worldwide standards as their quality standard. Based on its extensive ODM/OEM/JDM business experience
The company's green bathroom product range will give a fresh fashion experience. Outstanding engineers with over 20 years of industry experience lead an R&D team. The green bathroom product range also enhances bathroom living quality.  
It aspires to deliver cutting-edge technologies for faucets. In the quest for long-term water management. To achieve technological and structural achievements. The team is capable of responding to client needs and providing bespoke goods. They lay out a full solution for autonomous intelligent sanitary. 
Bathroom Product Options
Bathroom faucets that operate automatically.

Advanced manufacturing system.

Infrared sensor, micro-wave technology

Style and goods that are made to order.
Conclusion
Finally, purchasing a bathroom faucet does not have to be a hassle. You can create a bathroom that not only looks wonderful but also feels fantastic to use. Paying attention to the bathroom faucet manufacturer assists you in achieving the appearance you desire for your bathroom. If you are looking for a reputable bathroom faucet manufacturer that produces the best bathroom faucets, visit www.oltsw.com now.  Browse the similar topic blog best bathroom faucet brands in india, best bathtub faucet brands if you want to read more.