Retrofitting your bathroom with modern faucets mainly involves your style preferences. However, choosing between the faucet type and functionality also matters.
As a homeowner, getting the right type of faucet ensures that your fixtures are not only aesthetically pleasing but also pack excellent usability, be they are auto faucets. Popular faucet types include widespread and centerset faucets, which generally allow people to control the temperature by having multiple knobs. This article tackles the contrasts between the two, their benefits, and more.
Widespread vs Centerset Faucet: You're Talking About 4 Centerset vs 8 Widespread
Faucet spread

Image Source: Faucetsreviewed
The term faucet spread is intuitive — it refers to the distance between the handles of your chosen faucet. It is specifically significant for faucet types with more than one hole, such as three-hole faucets. Since centerset and widespread faucets belong to such a type, the size of the faucet spread will be an important consideration you should take.
4 faucet spread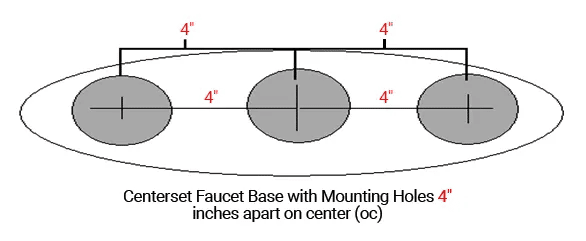 Image Source: Faucet Meaning
When talking about 4-inch faucet spreads, you are referring to the distance between the centers of the two accompanying handles or three-hole faucets. Knowing the size of the faucet spread is essential to ensure that you get the right type of faucet — a centerset one.
Faucet 8-inch spread
Image Source: Legacy Sink Inc.
Similar to the four-inch faucet spread, the only distinguishing aspect of this one is its bigger size. An 8-inch faucet spread is typically paired with widespread faucets.
What Is a Centerset Faucet?
4-inch centerset faucet
The 4-inch faucet spread type, more commonly known as a centerset faucet, is used for holes with 4-inch centers. You can determine this by measuring the distance between the centers of the right and left holes.
Centerset faucets typically integrate the faucet spout and knobs into one deck plate. You should note that the typical number of centerset faucet holes is three, but 4-inch centerset faucets can also be installed in a single-hole sink.
Centerset faucet: pros and cons
Pros of centerset faucets
Compact and space-saving. Centerset faucets come in one plate, taking less space than other three-hole faucets.
Good appearance. The compact design looks neat and they are usually designed stylishly.
Easy installation. They are ultimately a single-piece product with no complicated installation procedures.
Cons of centerset faucets
Simple design. Centerset faucets tend to feature a simple design, which may not suit those looking for luxurious and flashy ones.
Hard to maintain. Dirt can be difficult to remove with the one-piece configuration of the faucet.
What Is a Widespread Faucet?
What does widespread faucet mean?
Different from a centerset faucet that comes in a plate, widespread faucets have the spout and handles mounted separately. This requires a three-hole configuration on the sink or countertop, with 8-inch faucet centers. Also known as non-deck plate faucets, they also apply to up to 16-inch centers.
Widespread faucet: pros and cons
Pros of widespread faucets
Flexible faucet centers. The standard sizing is 8-16 inches, but its separated design allows one to freely configure the distance between the components.
Vast design collections. Widespread faucets are the most popular faucet types, resulting in a variety of styles to choose from.
Easy to clean. Since the handles and spout are separated, it allows people to clean them straightforwardly.
Cons of widespread faucets
Takes space. Widespread faucets are mounted individually and designed for spacey sinks and countertops.
Needs professional labor. It involves numerous parts to set up a widespread faucet, making the installation require professional help.
When to Choose a Centerset vs Widespread
The question you put forward is as difficult as touch or touchless faucet which one is a better choice, but no worry, TCK a automatic faucet manufacturer gives answer here.
Centerset bathroom faucet
Recall that centerset bathroom faucets are only suitable for those with 4-inch faucet spreads. Plus, its compact configuration makes it a great fit for space-constricted bathroom sinks. Hence, you want to opt for a centerset bathroom faucet if
Your sink type is a drop-in or pedestal.
There are less than six inches between the faucet holes of your chosen sink.
The space available is not large.
Widespread bathroom faucet
Widespread bathroom faucets are generally categorized as eight-inch faucet spreads, so they are best used to retrofit big bathrooms. You want to use a widespread faucet when
You are pursuing aesthetics and modern styles.
Your sink or countertop is big.
You want an easier time cleaning and maintaining your faucets.
No worry, we already made a list of bathroom fixture manufacturers for your pick.
Can You Replace a Centerset Faucet With a Widespread Faucet?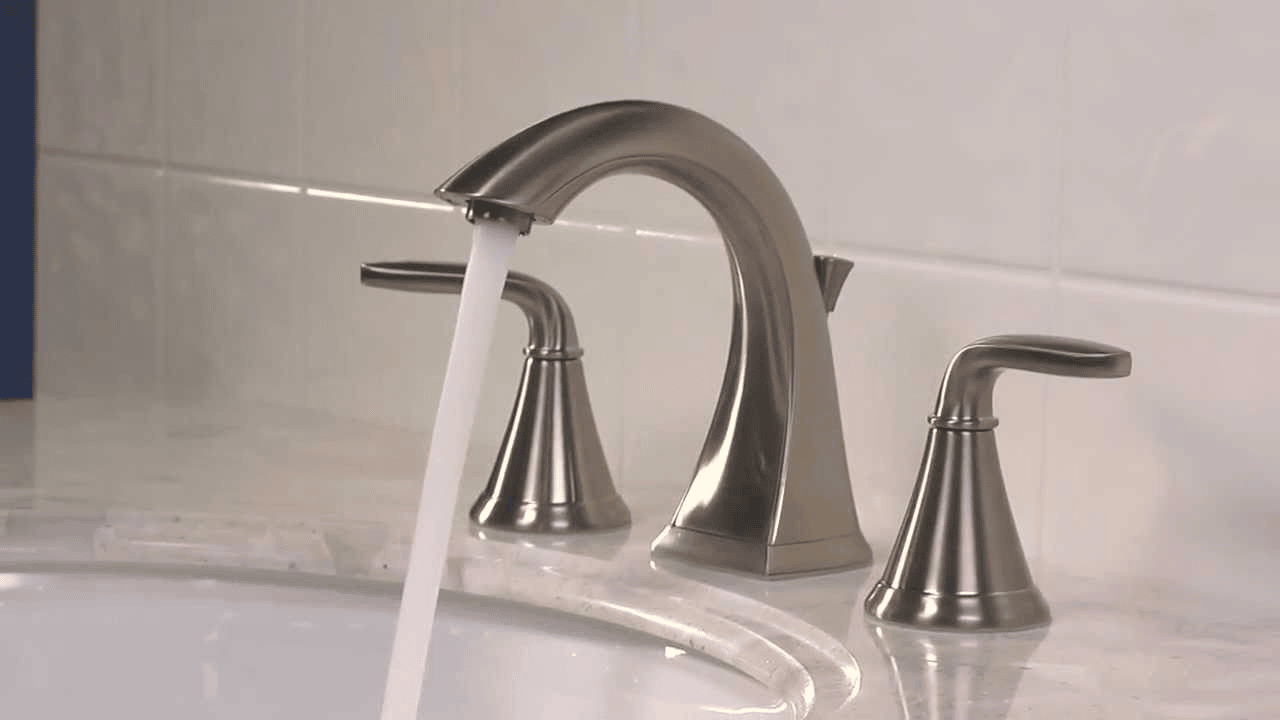 Image Source: Pfister Faucets
The only answer to this question is yes. Replacing a centerset faucet with a widespread one takes advantage of the fact that a widespread faucet's components are individually installed. Standard fittings also ensure that they feature similar hole diameters. Hence, you can freely install a widespread faucet in place of your previous centerset fixture.
Can you replace a 3-hole faucet with a single?
Of course, you can! However, a little trick to do this is to use an escutcheon or deck plate to hide all the other holes.
1-hole vs 3-hole faucet

Image Source: Morning To Bed
Single-hole faucet
Single-hole taps belong to a more petit kind of faucet, where it is mounted through one hole only. People do have control over the water via automatic faucet temperature control as it mixes the hot and cold water right at the faucet's spout. It is controlled using only one handle and is a perfect fit for those with tiny sink spaces.
3-hole faucet
Three-hole faucets are classified as large taps because they usually consist of two handles and one faucet spout. One handle controls the hot water and the other the cold one, which allows people to freely mix the right water temperature. 3-hole faucets can be categorized into centersets and widespreads.
How to Replace a 3-Hole Faucet With a Single
How to Remove a Bathroom Faucet
Here are some steps to follow in converting your three-hole faucet to a single one.
Buy a deck plate, escutcheon, or hole covers alongside your single-hole tap. These articles will help you cover the remaining holes in your sink.
Remove your bathroom faucet. If you are unfamiliar with faucet removal, a video was provided above for this step. Consider getting a professional to do the labor.
Install your new single-hole tap with the deck plate that you've got. More on bathroom installation will be discussed below.
Other Bathroom Faucet Types for Installation
Bridge faucet
A bridge faucet is highly similar to centerset and widespread faucets — the only difference is that the pipes for the hot and cold water are connected above the sink or countertop. It's highly characterized by the horizontal pipe connecting the two handles visibly at the top.
Wall-mounted faucet
Wall-mounted automatic faucets are a popular choice for the bathrooms of commercial establishments, hospitals, and schools. As their name implies, it extends from the wall and is not connected to the sink, where the water source is lined inside the walls.
Deck mount faucet
Deck mount faucets refer to any kind of tap that is installed on the countertop or the sink itself. Its counterpart is the wall-mounted faucet.
Vessel sink faucet
Vessel sink faucets can either be wall-mounted or deck-mounted. To be specific, these are faucets that are designed to fit vessel sinks, which usually sit on a countertop. Typical examples are tall single-hole faucets, which accommodate the height of the vessel sink.
Single-hole faucet
Single-hole faucets are the standard faucets that feature the handle and spout of the faucet in one body. As mentioned before, the water can still be mixed using hot and cold water directly at the faucet spout.
Single-handle faucet
Single-handle faucets are other terms that you can use to refer to a single-hole faucet.
Double-handle faucet
Double-handle faucets can be classified further into centerset faucets, widespread faucets, bridge faucets, and more. Quite intuitively relative to its name, a double-handle faucet allows people to control hot and cold water using two levers.
How to Install Bathroom Faucets
Tools
If you are planning to make a DIY installation of your bathroom faucets, here are some basic tools that you will need.
Putty knife
Rags
Water buckets
Wrenches
Applicable faucet materials
Aside from the tools themselves, you also need to buy the various faucet components that you need for your chosen tap. Here's a basic list of them.
Bathroom faucet, like a centerset, widespread, etc.
Silicone caulk
Supply line
Step-by-step bathroom faucet installation instruction
Step 1: Cut off the water supply.
If you don't want to make a mess in your bathroom, first turn off the water supply. Doing this also allows you to properly work on the area.
Step 2: Remove the drain, if any.
Your previous faucet may have been installed with a drain, so ensure to remove it. Clean up around the area to ensure that no dirt is present before installing the new one.
Step 3: Position the faucet at its mounting area.
Get your faucet and put the gaskets in place. Insert the faucet through the mounting holes of your sink and secure it using its accompanying nuts.
Step 4: Put the drain body and washer in place.
Install the drain body and the washer onto the sink, and ensure to put some silicone caulk between the washer and the sink.
Step 5: Install the ball rod.
Don't forget to install the ball rod to ensure that you can drain water effectively.
Step 6: Connect the water supply.
Connect the water supply back and try running your faucet.
Step 7: Inspect for leaks.
Check for leaks and issues by checking the how-to fix leaky kitchen faucet guide. If none, you have done a good job!
Conclusion
People primarily choose their faucets based on their style, while their functionality and installation come later. Centerset faucets and widespread faucets are two popular tap types that you can encounter on the market. If you are looking for amazing faucets for your bathroom, TCK has a lot of stylish and innovative designs waiting for you.